---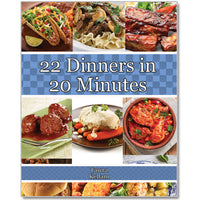 Sale
This handy e-book contains 22 tasty dinners from our Dining on a Dime Cookbook, Volume 1 including:
Oven Fried Chicken With Biscuits
Sheala's Ham And Noodles
Honey Mustard Chicken Sandwiches
Garlic Roasted Chicken
Crockpot Salisbury Steak
Quick And Easy Chili
The BEST Slow Cooked Roast
Brown Gravy
Using Leftover Roast Beef
Easy Barbecue Beef
Beef And Noodles
Steak And Mushroom Gravy
Easy Creamy Chicken
3 Ingredient Salsa Chicken
3 Ingredient Sweet Pork Chops Or Ribs
3 Ingredient Ritz Chicken
3 Ingredient Creamy Chicken Tacos
3 Ingredient Chicken Cacciatore
3 Ingredient Beef Tacos
3 Ingredient Barbecue Meatballs
3 Ingredient Sausage Biscuits And Gravy
3 Ingredient Dr. Pepper Pork
Ranch Chicken And Potatoes
1 x 22 Dinners In 20 Minutes
I am enjoying this book and all the other books I have received. All your recipes are easy to make, wonderful tasting and affordable. Thank you for taking the time to test the recipes before putting in your books. I love everything so far and the banana bread recipe is wonderful. It is the first recipe I have made that does not burn on the bottom before the middle is done. Thank you for all your hard work. I just love watching your channel and your emails. Thank you Kelly
GRAB N GO
FANTASTIC!!! Everything is easy. And Fantastic! We Can Grab n Go. Or Stay, Eat And Clean Up. This Is Another Book That Comes With Me. In My Grab N Go Bag!!Thank you for ALL That You Do :-)
Great Ideas!
These recipes are great. I got several new ideas to add to our meal rotation.
22 Dinners In 20 Minutes eBook
Quick, practical recipes
22 Dinners in 20 Minutes contains quick, practical recipes that are easy to prepare. As the author writes she based the timing on the prep time not on the cook time which can be helpful for people who are looking for less prep time. I'm an older cook, with numerous health issues including Rheumatoid Arthritis, and I'm always looking for recipes that reduce prep time as RA flares make me tired. When I'm not feeling well, I will definitely turn to this cookbook to fix a quick meal.
I loved the layout of the cookbook too as you will find a photo included with each recipe and there is one recipe per page.
Some of the recipes you'll find include:
Ranch Chicken and Potatoes
3 Ingredient Beef Tacos
3 Ingredient Dr. Pepper Pork