---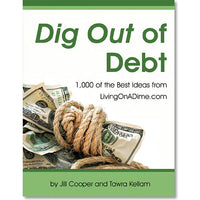 Sale
Ready to get out of debt for good?
Dig Out Of Debt
1,000 of the Best Ideas from LivingOnADime.com
Dig Out Of Debt is available as a series of 5 e-books containing a total of 229 pages of the most popular information from the LivingOnADime.com web site.
After receiving so many reader requests, we are pleased to bring you Dig Out Of Debt: 1,000 of the Best Ideas from LivingOnADime.com, over 200 pages of the most popular information from the LivingOnADime.com web site.
Living On A Dime is known as one of the very best resources of its kind to help you get out of debt without depriving yourself. We've brought you literally hundreds of money saving articles, strategies, tips and recipes.
Getting Out of Debt Is Easier Than You Think!
Don't think you earn enough to get out of debt? You'll be surprised! Learn how Michael and Tawra paid off $20,000 debt on $22,000 per year income!
Can't stick to a budget? Learn why it's not as hard as it seems and how to make and stick to a budget!
$450 a year on clothes for a family of six? Tawra does it!
Is your spouse spending it all before the bills are paid? Read Mike's conversion story, about how a self-professed spendthrift husband learned to love financial responsibility.
Are you actually depriving your kids by giving them the best?
"We've learned so much from Tawra over the last year about living frugally, examining our habits and managing what little money we had. As of last week, our regular bills are finally all paid up! We're no longer behind on any of them and can start working on our debt instead of playing catch-up with the utility companies. This was due in very large part to Tawra and her mom's wonderful advice, ideas and guidance."
-Karen from Ontario, Canada
"You have helped me a lot through your good advice! I was the most wasteful profligate spendaholic, I earned a lot, and thought I was entitled to spend every penny on myself. Now I have a savings, a growing IRA and have come to my senses."
-Kathy from California
Save over $10,000 in a year on groceries! Stop throwing your money down the garbage disposal! Dig Out Of Debt includes lots of useful tips to help you reduce your grocery bill. You can see dramatic savings after using these great grocery tips!
Tawra and Jill explain:
How Tawra spends $500 a month to feed a family of six. Learn why using coupons is not always the best way to save money!
Do you frequently buy something and then discover you already had it? Learn how to organize your pantry and get your grocery budget in shape!
Are you throwing away $1,000 a year? How reducing food waste at home can you save thousands!
Too tired to shop? Learn tips for shopping when you're ill.
Do you eat out several times a week because there's no time to cook? Saving thousands of preparing meals in 30 minutes or less is a breeze with Jill's tips.
"Your tip for separating chips, crackers and snacks into small snack bags is such a great and simple idea. I have been doing this for over a month since first seeing your site.
This has helped us save money on throwing away stale crackers and chips."
-Pam from Tennessee
Are you throwing your money away in the chaos and clutter? Dig Out of Debt reveals how you can clean and organize in five minutes and how simply getting dressed can help you get out of debt!
Is your disorganization costing you money every day? Learn the secrets of the organized and start saving!
Can't get rid of anything? Learn the basics of tossing and how it can set you free.
Tired of spending money on toxic household cleaners? Learn household cleaner tips and save more.
Does it seem like you have to buy your family a new wardrobe every few months? Learn how to save money on clothes and still be stylish!
"I am an at-home medical transcriptionist. After reading your article about not wearing pajamas all day, getting fully dressed for the day as if you were going to a job, even when your job entailed staying home, I told my co-workers about it on our monthly conference call, since it helped me greatly improve my line count (and my mind set)."
-Francine
"I am not one who has a lot of debt, however I never seemed to have any money. Some of the stuff you talk about just seems so simple, yet it just never dawned on me to look at it that way. I especially like your tips for in the kitchen. I have to admit that I am prone to looking at my dirty dishes in the sink and messy counters and just wanting to order a pizza for dinner. Lately, I have really put forth the effort in keeping it clean and now I actually want to cook."
-Dimity from Washington
Dig Out Of Debt Teaches You Kids Cents!
Did you know that you can get out of debt even when you have kids? Dig Out Of Debt includes lots of insights on raising responsible kids while keeping spending low!
These articles often reveal a perspective that many may not have considered that help financially overrun or guilt-ridden parents learn not to spend so much money trying to appease their kids.
Picky Eaters? Save money with healthy breakfast and snack ideas.
Does Back to School Mean Back to Broke at your house? Tips to help you save on school supplies.
Does the thought of another PB&J send you over the edge? Dig Out Of Debt includes great ideas for school lunches!
Tawra spent $25 on her daughter's birthday party, including the presents! She shares her secrets for an inexpensive but memorable birthday party.
Are you counting the days until school starts? Ideas for keeping the kids entertained during the summer.
"My kids never help!" Learn how to get kids to help around the house without arguing and fighting.
"Thank you for your article about back to school & buying school clothes. I had already purchased perfectly good clothes for my daughter this summer at garage sales, but like many others, was planning on buying "school clothes". Why? I don't know, because it's just been one of those things people do without even considering why. When I read that article, it was like a lightning bolt - of course, if the clothes she's been wearing are in good condition, why go & buy more just because school is starting? You saved us a good deal of money, I'm sure. Thanks again!"
- Chantelle
Is there not enough "Jingle" in your bells?
Don't dread the bills in January! Dig Out Of Debt includes a section on Debt Free Holidays focusing on having fun during the holidays without spending a lot of money.
You'll find:
Creative ways to treat your Valentine
The $6 gourmet Valentine dinner for two
Easter Basket ideas
Using Easter leftovers
Great costumes for less
The $25 Halloween Party
Christmas On a budget
Gift ideas to keep you from becoming a basket case
How to save big at after Christmas sales
If you have a question about ordering our products, contact us here.
Dig Out of Debt e-book
Thank you for the wonderful ideas in this book! Definitely ideas I had not thought of! I just did the Resurrection eggs in Sunday school on Easter Sunday and the kids loved it!! Thank you for a wonderful book!!
Very Helpful!
Loaded with practical tips and advice about how to tackle debt and kill it!
Love all the book
If you are to get out of debt, take back you life. Get these books.