---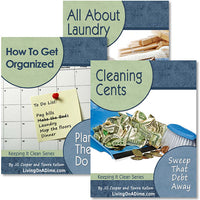 Sale
How To Organize And Clean Your Home E-books - Get Organized And Reduce Stress!
The How To Organize And Clean Your Home e-book set includes 3 e-books to help you simplify getting your home organized, eliminate clutter, conquer the laundry pile and reduce your stress with better organization.
How To Get Organized: Plan it, Then Do It!
Reduce Stress With Better Organization
Having trouble getting it all done? The secret is in better planning but what do you do when the plans don't work?
"How To Get Organized" is designed to help you organize your time better. It includes pre-made schedules and lists along with information to help you make your own customized schedules.
Try How To Get Organized and make a schedule that really works for you!
Cleaning Cents
Are you throwing your money away in the chaos and clutter? Cleaning Cents reveals how you can clean and organize in five minutes and how simply getting dressed can help you get out of debt!
At 32 pages, the Cleaning Cents e-book is a handy guide to inspire you to get your house in order and stop throwing your money away in the chaos and clutter.
Is your disorganization costing you money every day? Learn the secrets of the organized and start saving!
Can't get rid of anything? Learn the basics of tossing and how it can set you free.
Tired of spending money on toxic household cleaners? Learn household cleaner tips and save more.
Does it seem like you have to buy your family a new wardrobe every few months? Learn how to save money on clothes and still be stylish!
"I am an at-home medical transcriptionist. After reading your article about not wearing pajamas all day, getting fully dressed for the day as if you were going to a job, even when your job entailed staying home, I told my co-workers about it on our monthly conference call, since it helped me greatly improve my line count (and my mind set)."
-Francine
"I am not one who has a lot of debt, however I never seemed to have any money. Some of the stuff you talk about just seems so simple, yet it just never dawned on me to look at it that way. I especially like your tips for in the kitchen. I have to admit that I am prone to looking at my dirty dishes in the sink and messy counters and just wanting to order a pizza for dinner. Lately, I have really put forth the effort in keeping it clean and now I actually want to cook."
-Dimity from Washington
All About Laundry
Everything From Making Your Own Soap To Drying Without A Dryer
Are you overwhelmed by your laundry? Do you feel like you're buying detergent every week? Does it seem like your laundry bill is as high as your grocery bill? Do the piles everywhere drive you crazy?
All About Laundry will help you conquer the laundry pile and start saving today! This e-book is over 100 pages long, including pictures and demonstrations, and will make doing the laundry a much easier task!
Save money on laundry detergent
Learn to hang clothes on the line
Save money on ironing bills
Save time learning to do it more efficiently
Make clothes last longer!
All About Laundry answers the many questions we get about laundry, including:
Make your own laundry soap
Learn to put up a clothesline
Learn to hang clothes on the line
I can't have an outdoor clothesline — now what?
Learn to iron my clothes
Yes, you can fold a fitted sheet!
How many clothes does a family need?
Clothes storage ideas
You'll also get great homemade money-saving recipes, including:
Homemade Laundry Soap Liquid and Dry Mixes
Stain Pre-treater
Starch
Scented Ironing Water
Get the "How To Organize And Clean Your Home" E-book Series today!
If you have a question about ordering our products, contact us here.
How to organize ebook
I love everything i get from you
Thanks!
There are lots of great tips in these ebooks. Some tips were new to me.
Organize
Thankyou I've been busy sorting cleaning organizing my home. One area at a time. You books really helped and motivated me a lot.
Lyn
The title tells you exactly what you expect to get. Perfect!
Great Advice!
As always, I learn something new.