---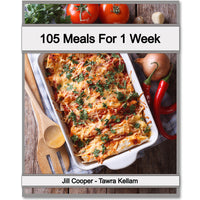 Sale
This 105 Meals For 1 Week Meal Plan is a downloadable plan containing a family meal menu plan for 5 days of meals, 105 meals total, including breakfasts, lunches and dinners.
The Meal Plan Includes:

Shopping List

Breakfast, Lunch, Snack Ideas and Dinners including:

Quick and Easy Chili
Tater Tot Casserole
Sour Cream Enchiladas
Easy Hamburger Casserole
Easy Salsa Pie
1 x 105 Meals For 1 Week Meal Plan
I just love how easy it is to make a meal plan and the meal itself tastes great and how inexpensive the recipes are. Thank you for all you do to help people eat better, live better and save money. Thank you, Kelly
Meals for One Week
I adore ur family sharing tips on frugal living and being ambitious while also battling illness. I too have chronic fatigue and appreciate those that share strategy and coping skills. Ur ebooks are very creative. Thank u for sharing them.
Helpful
Helpful ideas. Quick, easy & economical.
Meals for one week
Very good variety and useful use of what you have
We are a retired couple and on a strict budget, this book has helped me a lot. I have always just gone to the store and bought what we wanted with out caring for the price. Things now are different and this is helping me rethink our old life style. I am use to cooking gourmet and as I get older I am less incline to want to cook. These meals are wonderful. I appreciate all you work in putting this together.