---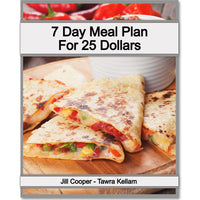 Sale
Here is a 7 Day Meal Plan for a family of 4 that you can make for as little as $25! This includes cheap, quick and easy family meals great for families with kids. These meals are easy to make and you'll also find easy and tasty recipes!  Even if you don't know how to meal plan, we've made it super easy for you!
Here's what's included:
Shopping List

Breakfast, Lunch, Snack Ideas and Dinners including
Cheeseburger Rolls
Hamburger Gravy
Bean Goulash
Creamy Chicken Tacos
Enchiladas
Easy Baked Potatoes
7 Day Meal Plan for $25 eBook
Loved the meals and at a low cost~ thank you :)
7 day meal plan
tasty recipes and handy shopping list!