---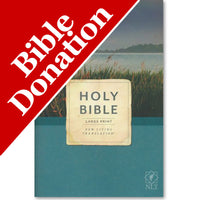 If you would like to donate to help bring Bibles to people through our work here, you may donate through this page. Our cost to send one Bible is $10.00.
If you choose to donate, please select the number of Bibles you would like to pay for (at $10 each) and check out as usual.

We keep track of the cost of the Bibles we send. The full amount of the donations are used ONLY for Bibles and the cost of shipping to send them.
We do not have non-profit status, so you will not receive a tax deduction if you choose to donate to our Bible project.
If you prefer to donate by check or money order, you can make it payable to "Living On A Dime". Please note in the memo line that it is for Bibles. You can send it to:
Living On A Dime
P.O. Box 6837
Sheridan, WY 82801
Part of our mission to bring positive transformation to people's lives is to offer free Bibles to people who cannot afford them. We believe that the most valuable thing a person can have is a personal relationship with the God who created everything, who loves us all beyond measure and is the only One who can bring perfect peace to people.
We send an easy to read New Living Translation Holy Bible. About The New Living Translation
This is NOT a Book of Mormon or a Jehovah's Witness Bible and we do not show up at people's homes, share their mailing addresses with anyone or mail anything to their mailing addresses except the Bible.

Our desire is to help people know God personally and this New Living Translation is both accurate and easy to understand. We would like people to be able to know God for thenselves rather than simply relying on what other people say about Him. About The New Living Translation
You can also see our favorite Christian resources here, including Bible translations, Bible study resources, Christian speakers and more!




Blessed
I'm very thankful for the opportunity to share God's word through your Bible ministry. This is an awesome blessing for me personally.
Bible donations
I'm glad you were able to help someone, Know Jesus better!
Thank you for your wonderful work of getting bibles to all who want to have one. For spreading the word of Jesus
Your channel is such a blessing!!!
I have ordered both the Dining on a Dime volume 1 and the gluten-free/dairy-free versions and really like both! And the little additions of humor make these extra special..... I was happy to donate to your Bibke-donation ministry and Luving on a Dime is my absolute favorite You Tube channel! Keep up the encouraging work and may The Lord continue to richly bless Tawra, Mike, Jill and all the family!!!
Sharing God's Blessings
Since God has blessed me abundantly, I thought I would contribute to the Bible donation in order to share those blessings. Thank you.