---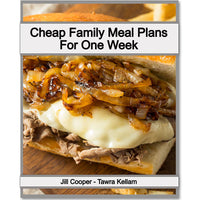 Sale
Here are 7 days of easy cheap family meals that your family will love! These are easy and delicious comfort food recipes that are sure to satisfy! We've made it easy for you with these easy meal plans and recipes!
The recipes in this meal plan are from our Dining On A Dime Cookbook, Volume 1.
Here's what's included:
Shopping List and 7 Dinners including:

Slow Cooked Roast
Cheesy French Dip Sandwiches
Garlic Roasted Chicken
Easy Chicken Fajitas
Easy Beef and Noodles
One Dish Ham Dinner
Ham Wraps
Yummy and economical recipes 😋
I made the pot roast! It was yummy and the next day I used the meat to make some sandwiches for me and my husband 😍👍 spent about $11 and there's more leftovers in the freezer. Thank you for the ebook !
Cheap Family Meal Plans for 1 Week eBook
simple but great inspiration
simple but great inspiration
some things not for my taste but easy top adapt
for the days when your brain screams for easy solutions
Love
Love the way it was presented. Everything you need is there. Thank you!