---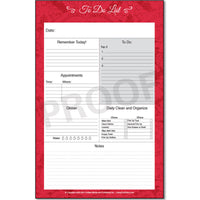 Sale
Daily To-Do List
Digital Download - $3.00
Our convenient daily to-do list makes it easy to keep your to-do list for the day at a glance so you can easily track your things to do for the day and mark them off as you get them done.
This is a one page digital download version of our To-Do List that you print yourself.
I like it! Simplifies the important things of the day without feeling overwhelmed.
Love it
Easy to read and understand a lot of common sense love it
A lifesaver!
Just wondering how I managed before I had this!
Daily To-Do List Magnetic Notepad
Daily to do list...
Really like these...purchased them to use in place of a planner for the remainder of 2020. Thanks!