---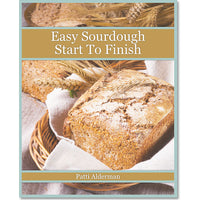 Would you like to make delicious homemade bread?
Are you having trouble getting yeast?
Are you intimidated at the thought of making sourdough bread?
Do you love the wonderful taste of old-fashioned sourdough, but you thought it was too difficult to risk making it yourself?
Easy Sourdough Start to Finish E-book is a must have for all beginners!
You'll learn how to create your very own sourdough starter from scratch with expert sourdough baker Patti Alderman, who has over 3,000 loaves of sourdough bread under her belt.
Once you learn Patti's simple basics of sourdough, it is easy to make tasty sourdough bread, cinnamon rolls, French bread, pizza crust and more to enjoy more to enjoy with your family!
Do you hate the idea of throwing out starter to keep it going?
There are even recipes for what to do with your leftover sourdough starter and how to use day old bread!
For perfect sourdough bread, you need a healthy and happy sourdough starter - It's what makes that tangy, delicious flavor everyone loves. Easy Sourdough Start to Finish helps you get the not-so-tricky starter process down pat, so you can have mouthwatering loaves EVERY TIME!
This step by step guide simplifies the process of making your own starter so that anyone can make it, no matter your skill level. Keep your tasty new creation alive and thriving with the help of clear instructions accompanied by beautiful photographs.
Inside Easy Sourdough Start to Finish, you'll find:
How to Make A Great Starter - Master the secret to a good sourdough bread using this basic sourdough starter recipe with just 3 ingredients!
Tons of easy variations - Make sandwich bread, pizza dough, biscuits, sweet breads with a variety of recipes - all from ONE sourdough starter!
Never ending sourdough starter — How to sustain a long-lasting starter with a simple weekly feeding schedule, so it will give you baked goods for years to come.
Get Easy Sourdough Start to Finish today for 50% off and you'll be on your way to making fresh homemade sourdough bread and other tasty treats!
 Here is the table of contents with a list of all the things packed into this e-book!
Click to see it larger!
Sourdough start to finish e-book
Just print it's that easy,
Having so much fun learning to make sourdough
Bread and so much more . love this E-Book
love the book have been on vacation so not used as yet great product
I started
Love it no bread yet. But I made waffles and crackers today. The family like it so looking forward to the 🍞
I'm so happy with my purchase. A winning cookbook!
I was able to prepare and bake Patti's Sourdough Queen loaf with Saskatoon Jam, that I needed to use up. The dough was so forgiving to work with and everyone enjoyed their slices. I love the format of each recipe. Easy to read and understand. Patti, your tips and notes are valuble in following the recipe.
Love it, looking forward to more