---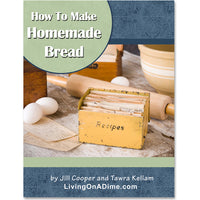 Sale
Do you love the smell and taste of homemade bread but find the thought of making homemade bread overwhelming?

In How to Make Homemade Bread you will find simple tried and true recipes and tips to help you get started making your own delicious homemade bread and homemade cinnamon rolls just like grandma made.

How to Make Homemade Bread includes all the tools and information you need to avoid disasters and make good bread right from the first loaf-- and you don't need specialty items like brick stones or special pans.

You can make crusty breads and soft breads in a regular oven with ingredients you already have on hand using this wonderful collection of delicious and wholesome recipes. Easily make these recipes at home, enjoying the process from start to finish. How to Make Homemade Bread includes easy to follow directions that make baking fun, rewarding and simple, even for the amateur baker.
"Very informative! I would suggest it to anyone interested in learning to make all kinds of breads. Written with easy to understand step-by-step instructions. Thanks Tawra and Jill!" -Dan
"Thanks again for this bread recipe book - the recipes are easy to follow and the Sticky Bun recipe is one I've been looking for has become a weekend favorite! Next, I will be baking rolls, amazing! "-MKM
"Making bread seems to be one of those things that a lot of people are "afraid" of. This book guides you through everything you need to know and then some. Easy to read with terms you can understand, not those technical "baking" terms some books use that you have to google the word so you know what it means."

"Easy to read and a great do it yourself book! And yes the loaf of bread you end up with you can actually eat."

"Dive in and punch that dough, knead it and enjoy it!" -Shirley E


Get the "How to Make Homemade Bread" e-book today and enjoy fresh homemade bread tonight!
How to Make Homemade Bread
Awesome. Highly recommended.
A Great Skill to Have
Wonderful instructions and recipes for every taste and expertise level.
Bread Baking is saving my money!
I love using the recipes to make cost effective bread. It saves me money and time!