---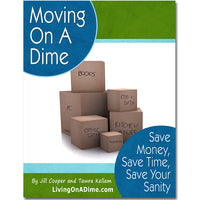 Sale
Moving On A Dime
Save Money, Save Time, Save Your Sanity!
by Jill Cooper and Tawra Kellam
Moving On A Dime is Jill and Tawra's moving guide that includes do-it-yourself directions for moving without the need for hair transplant products when you're done. This 30 page booklet contains everything you need to know from de-cluttering to packing to surviving the big moving day.
Here are few free tips from Moving On A Dime to point you in the right direction:
ORDER IN WHICH TO START PACKING
Start with things you don't use every day.
Memories - Grandma's dishes, quilts, old books, Bibles, childhood toys and photos
Garage items - Christmas and Holiday decorations, camping equipment and things in storage
Things stored in closets that aren't used often and out of season clothes
Knick-knacks, pictures, mirrors and wall hangings
Seasonal dishes, canning equipment, roasting pans, good china, good silverware, large serving platters
Unnecessary CD's, DVD's and video tapes.
Sewing room and craft items.
Home office - Pack as much as possible except bills that need to be paid. Leave office boxes open and tape them closed at the last minute before moving just in case you need something out of them.
Children's toys and games - Pack most of the toys they don't play with regularly.
One week before moving, pack all unnecessary kitchen items, clothes and linens (except what you need for one week).
PAIN FREE PACKING
Don't leave empty spaces. Here are some examples of how you might use all available space:
I fill my china cabinet with light weight soft things like stuffed animals, balls of yarn, quilts, artificial flowers and greenery.
If you will be moving your refrigerator or washer or dryer, fill it with pillows, wicker baskets or plastic items from the kitchen.
Fill clothes hampers with bathroom items. If you have a lamp that needs special protection, wrap it carefully in towels and place it in a clothes hamper.
Fill up even small items like plastic pitchers with kitchen utensils or kitchen knick-knacks.
I clean out a large outside trash can and use it to pack my hoses, small pots and gardening tools. If I'm not sure if I should keep something, I allow myself to take it if I can fit it in that one trash can. My son-in-law says it is one step closer to the curb that way. ;-)
Don't pack glass, porcelain or ceramic containers with loose items in them that could break them. Canning jars filled with marbles or baby food jars filled with nuts and bolts are recipes for disaster.
Pack heavy things such as books in small boxes.
Don't pack things like photos, videotapes, cd's, candles, plants or pets (especially pets!!!) where heat or cold can get to them. Don't think any of those things will be safe and protected in a car or truck overnight. If it gets cold, they will freeze. Also plants left in a hot car will not be safe because the heat will kill them. When transporting plants in a car, protect them from direct sunlight with a covering of newspaper because the sun will fry houseplants.
Pack kids' rooms last. They need the security of having their room the same for as long as possible. Be sure to put their favorite items in the car such a blanket, stuffed animal or books.
Moving on a dime ebook
I appreciate the very helpful ideas regarding moving. Thanks so much for sharing helpful suggestions. I highly recommend this book. God bless you!
Simple
I love how simple and easy to understand your cookbooks are .
Good luck on your move, keep the YouTube videos coming.
Great information
This is going to be helpful when we move in a few months.
Practical Food for Project Thought
The witer(s) of this short ebook offer friendly, straightforward instructions on moving (as in relocation). The methodology is practical and fairly detailed. The principles can be applied to almost any project, not only to moving to another location. Essentially they are: 1. Decide what you want, 2. Start on it now, 3. Use what yot have, 4. Work hard, and 5. Don't stop until the job is done. This book is inspirational because it springs from lived experience, not just impersonal classroom study or internet research.