---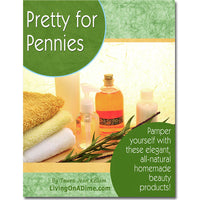 Sale
If you buy Dining on a Dime Cookbook, Volume 1, please note that Pretty for Pennies is already included in Dining on a Dime.
Pretty For Pennies
Frugal Bath and Beauty Guide
By Tawra Jean Kellam
Pretty for Pennies is a Frugal Bath and Beauty Guide that includes make-it-yourself directions for elegant, all-natural bath and beauty products. This 32 page booklet contains 33 recipes for items like foot massage oil, chocolate lip balm and almond lotion. It also contains 69 frugal tips.
Include Pretty for Pennies in your next gift basket. Make a few of the recipes and include them in a gift basket with a copy of Pretty for Pennies. Pretty for Pennies makes a great gift for wedding and baby showers, birthdays, Christmas or Mother's Day. The frugal lady in your life will love to make all these products and create her own frugal spa at home.
Here are some sample recipes from Pretty for Pennies. Enjoy!!
Hot Oil Treatment
2 Tbsp. olive oil*
2 Tbsp. vegetable oil
Heat ingredients just until warm. Spread on wet hair, especially the ends. (Place only on the ends if you have oily hair.) Wrap a warm, wet towel around hair for 30 minutes to one hour. Shampoo and rinse. Alternatively, put this on before a shower and then put on a shower cap. Let the hot water from the shower run on your head to warm the oil. You may also use a blow dryer instead of the shower. Be careful not to make it too hot.
*Other oils you could use are: sunflower oil, wheat germ oil, sesame oil, almond oil, avocado oil
Homemade After Shave Recipe
1/2 cup rubbing alcohol
½ cup water
1 tsp. cologne*
Mix rubbing alcohol and water. Add favorite cologne.
*Or add one or two little cotton cologne samples (like Avon samples).
Leg Wax
(This is the same as the stuff you can buy in the store.)
1 cup sugar
2 Tbsp. lemon juice
2 Tbsp. water
Mix ingredients in a saucepan and boil for 8-15 minutes, or until mixture reaches 250° (soft ball stage). Then pour it into a container and let it cool down. Keep refrigerated. Heat in the microwave just until warm. Be careful not to make it too hot so that you don't burn yourself. Test on your hand first. Lightly powder the area you wish to wax. Pull skin taut and spread wax on using a tongue depressor or popsicle stick. Place a 3x5 piece of cotton cloth* over the area to remove hair. Pull off quickly against the grain of the hair. Cloths may be re-used simply by washing in hot water. I have not personally tried this recipe but friends say it works great. I have never had to courage to try and wax my legs. If you're not familiar with how to wax I would go to a beauty school and have them show you how to do it first.
*Old t-shirts or flour sack dish towels torn into strips work well.
Bath Bombs
1 cup baking soda
½ cup citric acid
½ cup cornstarch
2 Tbsp. plus 1 tsp. oil (almond, sunflower, coconut, mineral, canola
or baby oil may be used)
2 tsp. water
1-2 tsp. essential or fragrance oil
¼ tsp. borax
food coloring
Mix baking soda, citric acid and cornstarch. Mix the wet ingredients and the borax and slowly add to the dry ingredients, mixing constantly. Mix slowly or it will bubble too much. Pack into mold; let set for a few minutes and then remove from molds. Let dry another 24 hours. In humid climates you may need to dry longer. Use 1-3 per bath. Store in an airtight container. Wrap in cellophane bags for a nice gift.
* The mixture is very crumbly and dry. Mix as well as you can and then pack tightly into molds. If the bath bombs won't hold their shapes, add one teaspoon oil.
If you want to make Bath Seeds instead don't pack into molds. Just place in a pretty jar and label. Use 2-4 tablespoons per bath.
Index
After Bath Splash
After Shave
Antiseptic Hand Cleaner
Bath Bubbles
Bath Powder
Bath Bombs
Bath/Body Oil
Bath Salts
Bath Gel
Bath Sachet
Blemish, Removal
Body/Bath Oil
Bubble Bath
Foot Massage Oil
Foot Bath, Herbal
Gift Ideas
Hair Tips
Hand Soap, Liquid
Heat Pads
Hot Oil Treatment
Leg Wax
Lip Gloss
Lip Gloss, Sparkling
Lip Balm
Lip Balm, Chocolate
Lip Balm, Honey
Lotion, Almond
Lotion, Perfumed
Lotion Bar
Massage Oil
Massage Cream
Milk Bath
Miscellaneous Tips
Nail Care
Oatmeal Scrub
Paraffin Bath
Solid Perfume
Salve
Steaming Facial
Toothpaste
Great Cooking Book
Many new and great recipes in it! Great hard back!