---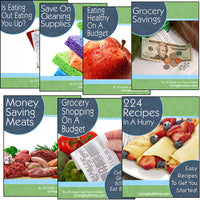 Sale
How to Save Money On Groceries e-Course
Keep it Simple and Save Money!
$49.00

BLACK FRIDAY SALE! 50% Off! $24.50
Save 50% On Groceries!
We will show you how you can save more than 50% off your grocery bill (spending a lot less time and money doing it!).
You know you can spend less on groceries, probably a LOT less, but the task can seem so big and confusing, it's hard to know where to start.
You're a busy person and you don't have time to spend hours in the kitchen to prepare your meals every day and even MORE hours trying to figure out what to make and what to buy. Sometimes, frankly, it seems easier to eat out and put off improving this part of your life to that future "someday" that never comes.
But that little voice in the back of your head keeps reminding you that you're spending too much and if you could just figure out how to cut your food cost while also making your life less hectic and then make that a small part of your regular routine, life would be so much less stressful.
If you're like most people, you would rather do anything other than plan meals. This is one of the biggest reasons people spend so much money eating out. According to our viewers, it is super easy to spend $500-$600 per month paying too much for unsatisfying overpriced food and grumpy kids who complain the entire time, while you have to wait with them for someone else to prepare it. And then they leave half of it on their plates as you escort them out of the restaurant wondering why you spend so much and they don't even appreciate it.
We've had reports from many viewers who said that after actually keeping track of how much they're spending eating out, it adds up to an amazing amount that's usually thousands of dollars extra per year. One reader discovered that she and her husband alone spend a whopping $22,000 per year eating out! How much do you waste eating out without realizing it?
What if you could spend less time and money at your own home, whipping something together in peace in just a few minutes while the kids are off doing their own thing until you actually call them to dinner? What would you do with all that extra money you no longer spend eating out?
We created the How to Save Money On Groceries e-course to solve these problems and give you a more pleasant and relaxed life.
Our Tips Are Realistic And Easy To Use— Starting Today! And It's Fast!
We make it so easy to plan meals, you'll kick yourself for not having done it this way before. You'll be amazed at how fast you can get dinner on the table and get out of the kitchen!
We'll explain how to make meal planning so easy it takes just a few minutes a week, and we'll share how to make your grocery shopping much more efficient so you get everything you need to make easy meals this week and avoid buying a lot of extra stuff that just unnecessarily inflates your food budget. You'll be saving so much time not running around to fast food joints wasting time and gas, it'll be easy to find a few minutes to plan your home-cooked meals.
You'll learn how to make meals your family will eat and cut the amount of food you have to throw away.
And we'll also share tips for quick cleanup so you can get out of the kitchen fast and get on with what you really want to be doing with your day!
It's time to stop being so busy worrying over unnecessary things and take your life back. How to Save On Groceries can help you save and reduce the stress resulting from your food bill.
What You'll Get:
7 e-books with 364 pages of step by step instructions to guide you to slashing your grocery bill.
10 videos where Jill and Tawra walk you through the steps!
224 tasty recipes to choose from to get you started.
And you'll get it all for the price of ONE fast food meal out...
You can review the e-books any time you like and watch the videos any time you need a little extra kick in the pants!
A Sneak Peek At What's Inside...
Save Over $10,000 Per Year
Healthy Eating on A Budget
Is Shopping at Aldi Worth It?
Are You Eating Your Way into Debt?
Cut Your Grocery Bill in Half
Save Time Cooking Dinner
224 Dinners In A Hurry
Easy Menus Planning
Are coupons really worth it?
The best places to buy inexpensive groceries
How to get your fridge and pantry organized
Why leftovers aren't really leftovers
Go get it now and start saving on your groceries TODAY!
How to Save Money On Groceries e-Course (e-books and videos)
CLICK HERE TO ORDER NOW!
If you have a question about ordering our products, contact us here.
Book one
I have been pleased with all the recipes I have tried. My only problem is weight of volume one and trying to use the book without getting something on the page I am using. I am 77 and have limited use of my hands. Great value for the price of the books. I have bought two of volume one as gifts
Best of the Best
If this course does not help you control your food budget, nothing can. The advice can help you on any part of your budget. You MUST take control of your money yourself, no one can actually do it for you. GOOD LUCK
How to Save Money On Groceries e-Course (e-books and videos)
How to Save Money On Groceries e-Course (e-books and videos)
Thank you 😊 Highly Recommend
Cannot get over the amount of information and great ideas that you managed to pack into your book on Saving on Groceries. It was informative and also fun to read with your humorous notations. I have incorporated many of your suggestions into my life. Being mindful not to be wasteful is always an important reminder! Thanks again.